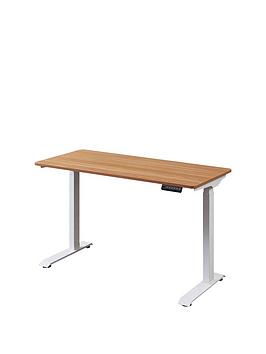 See more images
Koble Apollo 2 0 Desk With Wireless Charging And Electric Height Adjustment - Oak White
Store: Littlewoods
Category: Home & Garden -> Furniture -> Tables
Brand: Koble
Koble Apollo 2.0 Desk with Wireless Charging and Electric Height Adjustment - Oak/White Designed with flexible working in mind, the Apollo 2.0 smart desk by Koble can be easily adjusted to suit your preference - all at the touch of a button. Key is the seamless electric height adjustment function that lets you adjust it anywhere between 74 cm and 130 cm. If you feel like you've been sitting for too long and want to stretch out, simply press a button on the keypad at the front and your desk will quietly rise. The readout displays the current height, and when you've found your perfect position, you can save it in the memory settings for faster adjustment in the future (the memory has space for 4 different settings, so everyone in the family can have their own). Push another button and the desk will begin to fall again. There's also integrated wireless charging to the desktop, so you can power up your Qi enabled device without having to trail un
read more...
Date Added: 31st March 2021
Last Updated: 19th April 2021
Koble Apollo 2 0 Desk With Wireless Charging And Electric Height Adjustment - Oak White not quite perfect? How about these similar products!