Ready to Find the Perfect Chairs for Your Dining Room?
Trying to find the perfect chairs for your home and dining room can be an incredibly tricky job! Choosing the correct chairs for your dining table or breakfast bar is a decision all the members of your family will probably want a say in too!
Not only do you want to find chairs that look great, but are also super comfortable and durable. At LoveHomeStyle, we've put together a guide to help you find the perfect dining chairs for your home.
Here are 5 amazing tips for choosing dining chairs for your home.
Tip 1: Consider Your Space
When selecting chairs for your dining room, you should first consider the size of your room. Measure the available space and select chairs that will fit comfortably in the room – be especially mindful of the room around each chair you will need for easy access. This is especially true if you nave younger or older members of your family who might need extra space or assistance. You don't want to choose chairs that are too large or too small for the area. You should also consider the shape of the room and how you want the chairs to be arranged.
Tip 2: Choose a Style
Once you've considered the size and shape of your dining room, the next step is to choose a style of chair. There are many different styles to choose from, including traditional, contemporary, and modern. Take some time to browse through different types and find the one that best matches your style and the décor of your dining room. With regards to colours, you can't really go wrong with traditional black dining chairs which will suit almost all decors and tables.
Tip 3: Consider the Material
The material of the chairs is also an essential factor to consider. Different materials have different properties and will impact your dining room's overall look and feel. For example, if you want lightweight chairs that give an open look, you should consider modern-styled plastic or metal chairs such as these elegant brass dining chairs. However, if you want more comfortable chairs, go with wood and traditional leather dining chairs as they often are more padded and have larger seats and armrests.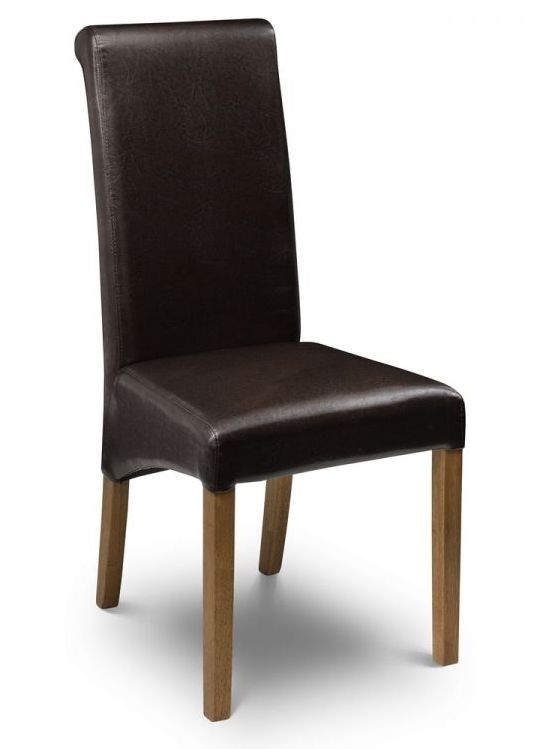 15% OFF!
£112.00
£95.00
A Hardwood Framed Dining Chair with Sprung Seat and Sumptuous Faux Leather Upholstery.Brown Faux Leather Upholstered Dining Chair Contemporary and Timeless Design Internal Sprung Base for Extra Comfort During Prolonged Use Dining Chairs Boxing Day Furniture Deals. Boxing Day Furniture Sale. Boxing Day Dining Chairs Boxing Day Furniture Deals. Boxing Day Furniture Sale. Boxing Day Dining Chairs Best furniture shop in Leicester,Leicestershire,East Midlands Selling. Spring Deals. Spring Furniture Sale. Spring Dining Chairs
Tip 4: Test for Comfort
When purchasing chairs for your dining room, it's essential to test them out for comfort. Sit in the chairs and make sure that they are comfortable and supportive. You want chairs that are just hard and soft enough. Make sure that the chair is the right height for the table and that you can sit comfortably without feeling cramped.
Tip 5: Consider the Price
Finally, consider the price of the chairs. Different materials will have different prices, so make sure you find chairs that fit your budget. Consider buying furniture sets if you are looking for an even better deal. Choosing the perfect chairs for your dining room doesn't have to be complicated. Just remember these 5 tips, and you'll be sure to find comfortable and stylish chairs.
With LoveHomeStyle's guide to choosing the perfect dining chairs for your home, you'll be able to find chairs that will look great and last for years to come!