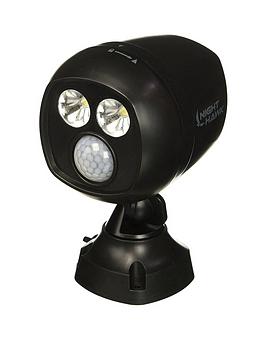 See more images
Jml Night Hawk
Store: Littlewoods
Category: Home & Garden -> General Household -> Lighting
Brand: JML
JML Night Hawk Night Hawk is your super-bright, always vigilant, safety and security light that will give you total peace-of-mind night after night. Night Hawk is always ready to protect and deter intruders with its super-bright, powerful 450 lumen LED lights that will flood every inch and fill every shadow of your rear or front garden at night. Battery-powered and motion-operated, Night Hawk only comes on when movement is detected within a 120 degree approach angle, and only when it's dark, so it won't come on during daylight when it's not needed. Great for covering front or rear gardens to deter burglars and would-be intruders, but also great as a garage light that senses your approach or, placed above your door or porch, it will give you great visibility coming home at night and trying to unlock your door. The universally-positional head means you can direct the light precisely where you need it and the weather-proof construction means it won'
read more...
Date Added: 25th September 2020
Last Updated: 26th September 2020
Jml Night Hawk not quite perfect? How about these similar products!