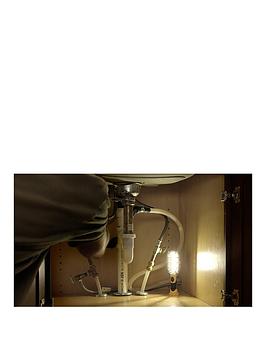 See more images
Jml Handy Brite
Store: Littlewoods
Category: Home & Garden -> General Household -> Lighting
Brand: JML
JML Handy Brite Forget fumbling around in the dark when fixing a pipe under the sink or making repairs to your car - the Handy Brite from JML is the new cordless LED light that fills any area with a blanket of bright light! Lightweight and compact, it's fitted with 20 ultra-bright COB LEDs, and its clever stand-up design incorporates a magnet in the base so it will stick to metal surfaces to keep it steady when you're working. You can even stick it upside down on the underside of your car bonnet - ideal when you need to top up with screen wash on those dark mornings. There's also a built-in swivel hook for easy hanging when working or camping. You could even hang it in a wardrobe so you don't have to turn on the ceiling light and disturb your partner. Handy Bright has a rugged, durable design and is just right for keeping in the garage, kitchen drawer, glove box or even your rucksack the next time you go camping or into the great outdoors! Dep
read more...
Date Added: 25th September 2020
Last Updated: 27th September 2020
Jml Handy Brite not quite perfect? How about these similar products!