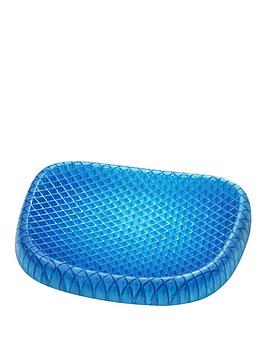 See more images
Jml Egg Sitter
Store: Littlewoods
Category: Home & Garden -> Home Accessories -> Home Textiles
Brand: JML
JML Egg Sitter Turn even the hardest chair into a comfy perch with the JML Egg Sitter. It's all about the clever honeycomb design that's constructed from Elasticore, which absorbs pressure points by collapsing in on itself - this is why even an egg won't break under pressure! Egg Sitter also stays cool to the touch and allows air to freely circulate under you, ensuring you stay super comfy during days in the office, for the full three courses at the dinner table, and even on long car journeys. Forget the uncomfortable foams and tired springs - Egg Sitter is the modern way to support your bottom and spine. And when you get up it will bounce right back to its original shape! Depth: 4 CM Height: 34 CM Material Content: 1 x Egg sitter 1 x Washable cover To clean cover: Machine Wash, Cold (30°C) with a mild detergent and air dry. Dryer may not be used. Do Not Dry-clean. Do not iron. // To clean the Egg Sitter: Wash by hand with gentle soap and warm
read more...
Date Added: 25th September 2020
Last Updated: 26th September 2020
Jml Egg Sitter not quite perfect? How about these similar products!