16% OFF!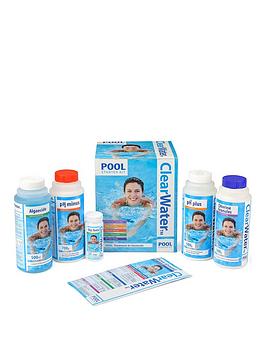 See more images
Clearwater Clearwater Pool Starter Kit
Store: Littlewoods
Category: Home & Garden -> Home Accessories
Brand: Clearwater
The Bestway Clearwater Swimming Pool Starter Kit will quickly transform your grimy pool into a clean and healthy swimming environment. Even the worst looking (and smelling!) pools will sparkle again thanks to the special chemicals contained in the kit. A 500g container of rapid-dissolving chlorine granules will produce free active chlorine (FAC), which disinfects pool water, eliminates bacteria and kills harmful organisms. There's also a 500ml bottle of Algaecide - this prevents algae building up and promotes clearer, cleaner and healthier water. You also get 25 swimming pool Test Strips to let you easily check the alkalinity, chlorine and pH levels, ensuring they're suitable for swimming (pH levels should be between 7.2 and 7.6). Helping you maintain a consistent pH balance ia a 500g container of pH Plus and a 700g container of pH minus - these can decrease or increase pH levels. Bestway have included a Pool Treatment Guide (as with all c
read more...
Date Added: 28th November 2020
Last Updated: 1st December 2020
Clearwater Clearwater Pool Starter Kit not quite perfect? How about these similar products!