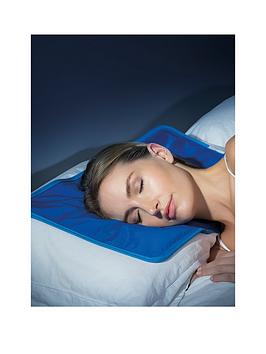 See more images
Jml Chillmax Pillow Ndash 2 Pack
Store: Littlewoods
Category: Home & Garden -> Home Accessories -> Home Textiles
Brand: JML
Never have to flip to the cool side again with this pack of 2 Chillmax Pillows from JML. Working for up to three hours at a time, they use a special pressure-sensitive inner gel that reacts to your body temperature, absorbing excess heat and drawing it away from your skin. This helps you to achieve a peaceful, more restful night's sleep. The Chillmax Pillow can also be used as a traditional pillow or seat cushion, helping to relieve the discomfort of overheating on warm, summer days. You can even put it in the fridge before use for an extra blast of cooling relief. Not just restricted to the home, their slim, foldable design allows you to take them anywhere you go - long car rides and even plane journeys no longer need to be uncomfortable. And the best part is, because there's no need to refill it, and you don't need to add water, it's kind on your bills too! Naturally cooling gel pillow Chillmax™ Gel transfers heat away from your body Use as a
read more...
Date Added: 25th September 2020
Last Updated: 26th September 2020
Jml Chillmax Pillow Ndash 2 Pack not quite perfect? How about these similar products!