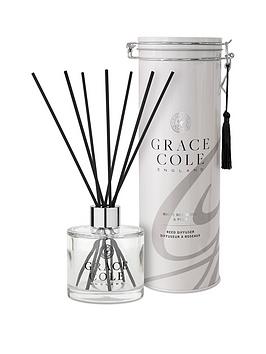 See more images
Grace Cole White Nectarine And Pear 200 Ml Reed Diffuser
Store: very.co.uk
Category: Home & Garden -> Home Accessories
Brand: Grace Cole
Grace Cole White Nectarine and Pear 200 ml Reed Diffuser Create a refreshing burst of zesty fruits in your home with the White Nectarine and Pear reed diffuser from Grace Cole. The luscious aromas of fresh orchard fruit gives the overripe white nectarines a wonderfully sweet profile that's easy to love. Delicious pears overlap with floral notes, and it's all complemented by a stunning base of lychee, apricot and prune, as well as jasmine and violet blossoms. It comes packed in a beautiful branded white tin with gold highlights and a coordinating tassel, so it's the perfect gift for a loved one or even as a treat to yourself. About Grace Cole reed diffusers There's nothing quite like a Grace Cole reed diffuser. Designed in England and exquisitely crafted to meticulous standards, their indulgent aromas are designed to deliver grown-up glamour throughout your home. Made with carefully blended oils that stay fresh from the moment the bottle i
read more...
Date Added: 28th September 2020
Last Updated: 22nd October 2020
Grace Cole White Nectarine And Pear 200 Ml Reed Diffuser not quite perfect? How about these similar products!